What to Consider When Buying Farm Tools and Equipment
What to Consider When Buying Farm Tools and Equipment
As a professional farmer, you know the importance of having the proper tools and equipment to get the job done. There are lots of important things to consider that help ensure you'll find equipment that's going to best fit your needs, which we know can seem overwhelming. This week's Richmond Brothers Equipment blog is here to provide you with some important things to consider to ensure you get the best equipment available to you.
Richmond Brothers Equipment is a farm equipment dealer in Bay Port that specializes in tillage tools and agricultural machinery. Whether you need ripper points, shovels, shank savers, or other high-quality tools, we've got you covered. Read this week's post and reach out to us in Bay Port today!
Identify Your Needs
Before you start searching for farm tools and equipment, it's important to establish your needs. Each farm is different, so a one-size-fits-all approach won't allow you to find optimal solutions. Consider things such as practicality, the layout of your farm, the type of farming you'll be doing, economic factors, etc. It also comes down to personal preferences, so we recommend evaluating what you like and don't like about your current equipment to help you narrow down your search.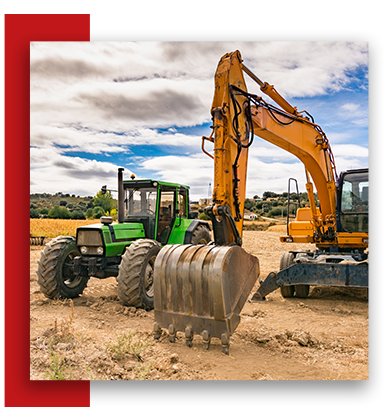 You should also think about things such as what kinds of tasks will be completed daily with this equipment or machinery. Ask yourself questions including:
Are you going to be working with the land or herding animals?
What kinds of animals will you be working with?
Are you only going to be working with a couple acres or are you going to be spreading fertilizer and cultivating soil throughout the farm?
After you've decided on what you really need, you can start browsing for farm tools and equipment.
Define Your Choice of Farming Equipment
Farming requires many different pieces of equipment, so we've created a list that might make it a bit easier to understand what all you might need to look for.
Compact Tractor
One of the most common and important pieces of equipment used in farming is a tractor. Tractors can be used to push and pull other agricultural tools, which make them a must for any farmer, whether you herd livestock or cultivate crops.
If you're unsure of what to look for in a tractor, reach out to our farm equipment dealer for some assistance. We have the knowledge necessary to find solutions that are tailored to your needs.
Tractor Implements
A great tractor isn't the only thing you need to be a successful farmer – tractor implements are important too. When equipped with the right attachments, your tractor can accomplish an endless number of tasks. Popular implements include mowers, loaders, seeders, sprayers, hay balers, manure spreaders, and tillage tools.
When selecting add-ons for your tractor, keep flexibility and versatility in mind. You want to purchase equipment that can be used for a number of different purposes, so be sure that the implements you're looking into can support that. You should also look for implements that fit the size of your tractor. Tools that are too big or too small will add time to any job.
Richmond Brothers Equipment has the tillage tools you need. Our expertly crafted ripper points and shovels are built-to-last and can outperform competitors by three to six times. Reach out to our team to learn more about how these products can help you.
Harvesting Equipment
Having the proper harvesting equipment can save you time and significantly cut down on labor costs. To find out more about which type of harvesting equipment might be right for you, we recommend you reach out to a professional farm equipment dealer who can answer your questions.
Livestock Equipment
If you're a farmer who works with livestock, you know there's lots of different equipment needed every day. This includes things such as food and water supplies for the animals, as well as shelter and transport options. Feeding equipment includes anything from buckets and hay racks to range feeders and feeder platforms.
Livestock trailers are also necessary if you plan on transporting your animals. Consider what types of animals you'll be transporting, as well as how many animals. This will help determine what kind and size of trailer will work best.
Also, consider fencing to keep your animals contained. Be sure that the fencing you choose is tall enough to keep your animals safe. For example, if you're working with cattle, your fencing needs to be at least 54 inches tall to prevent them from escaping. If you're planning to move your animals around on the farm, consider portable fencing. Electric fencing may also be an option, depending on your needs.
Tools
Big machinery isn't the only important equipment when it comes to farming. You also need the proper tools as well. These can include shovels, digging forks, rakes, wheelbarrows, etc. When shopping for tools, look for durable options that come with a lifetime guarantee.
Try Equipment & Tools Out Ahead of Time
Farming equipment is a large investment, so it's really important that you purchase products that will meet your needs and make your job easier. No matter what type of tools or equipment you're looking to purchase, you should test it out before you make a commitment.
When testing out equipment, be on the lookout for ergonomics and comfort. You also want to look for equipment that feels sturdy and appears to be of good quality. If possible, ask your farm equipment dealer if you can drive or operate equipment before you buy. This can help you get a good idea of how it works and what things feel like.
The most important thing is to be sure that you're not rushing your decision. If you feel uncomfortable or don't like the way something operates, don't settle just because you're in a hurry. Take your time to ensure you're getting a solution that will save you money and time, and make your daily responsibilities simpler.
Keep the Quality/Price Ratio in Mind
A good farm equipment dealer should have extensive information available for each piece of equipment. You should be able to get a good idea of what models, options, and prices are available.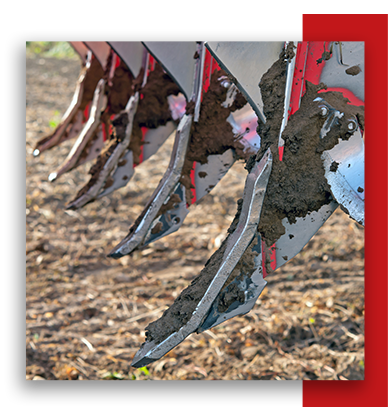 The Seven Ps
We also recommend you consider what we like to call the seven Ps, which include:
Price
Performance
Power
Parts
Product Support
Purchase
Prestige
Choose your farming tools and equipment wisely. We recommend beginning the search early so you're not in a rush.
If you're unsure of what to look for, contact Richmond Brothers Equipment. Our farm equipment dealer can help lead you in the right direction. Call us in Bay Port today!